Sale!
Miss Katie Corsetry – Glitter Corset – Overbust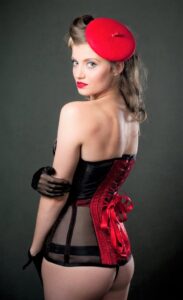 Our overbust mesh corset with glitter front and back panels.
A fabulous red colour glitter which glints beautifully under lights!
Matching colour waist tape and stitching give it a stunning look.
As in all our corsets a heavy weight busk is used and the black mesh is non-stretch so perfect for tightlacing.
Comes with a 3-4″/8-10cm Modesty Panel which can adjust the overall width up approximately a couple of sizes.
PHOTOS © MISS KATIE CORSETRY