SCARLET IN CHAINS – Collar – Valkyrie Eclipse
£59.00
1 in stock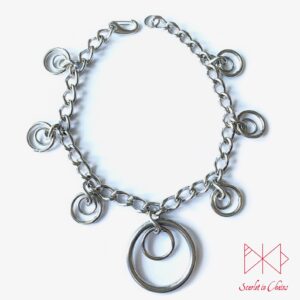 Stainless steel 3mm chain collar with a large 40mm central O ring with a smaller 20mm O ring inside it, to get the eclipse effect.
With 6 smaller 13mm O rings with smaller still 8mm O rings inside it surrounding it.
Fastens with a stainless steel clip.
This item is suitable for 24/7 wear and can handle anything your life has to throw at it from sea water to latex it will not tarnish, rust, dull or stain skin or clothing.
Handmade in the UK.
Size: 15-18″.