Sale!
Angelic – Choker – Divine Lux – Leopard Print – Exclusive To FAB.LONDON
1 in stock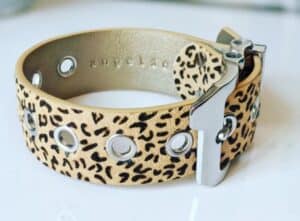 EXCLUSIVE TO FAB.LONDON
Tap into your wild side with this one of a kind leather choker!
Leather thickness: 3mm to 3.5mm
Neck Size: 7″-18cm Min. / 15″- 38cm Max.
Chocker width: 1.5″ (38mm)
Finish: Outside: fur-like Faux Leopard; Inside: golden gloss
Buckle: Stainless Steel
Hand-crafted, leather designs made in England.