Broke Boutique – Reverse Set – Exclusive To FAB.LONDON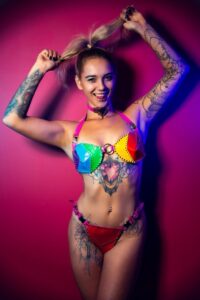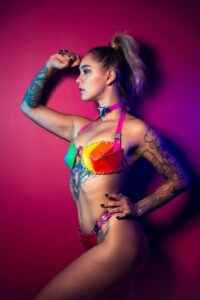 Exclusive To FAB.LONDON.
Bra + Knickers only.
Handmade in London, UK.
…
Want to let the inner rebel show?
Do it with all the colour and pomp you want with the "Reverse" Set!
On one side the set is one colour, on the other a different one…!
Pick the one you want depending on your mood… or switch halfway through the day!
Ordinary just isn't right! What colour? You decide!
This product features detailing at its peak, colour in all its vibrance and excellent workmanship.
Save the planet with me, using unconventional styles with upcycled bouncy castle off-cuts!
All the high quality and durable materials going into off-key fashion are sure to stand out and turn heads!
Please note: this set is made using reclaimed materials from reclaimed bouncy castles (PVC and nylon thread), with brass fittings.
All Broke Boutique designs are made using eco-friendly and cruelty free materials.
Additional information
| | |
| --- | --- |
| Size | Small to Medium – (D CUP) |
| Colour | RAINBOW or PINK with nickel-plated fittings |