Scarlet In Chains – Harness – Peachy – One Size
£72.00
1 in stock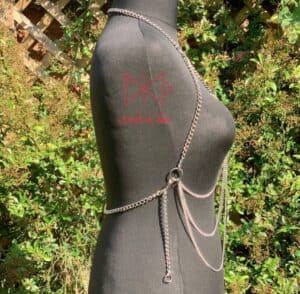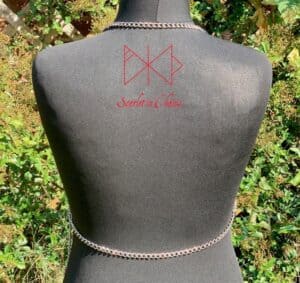 Details:
Handmade item
Materials: Stainless Steel
Jewellery style: Gothic
Description:
The Peachy Harness is a custom made chain body harness.
Created with 2mm Stainless Steel Chain and 45mm stainless steel O ring at its center with 19mm O rings coming off the central ring.
Suits large and smaller chest sizes due to the 1mm stainless steel hanging chains which hang looser or pull tighter too allow for extra room in the cup area for larger chests or frame the cup area for smaller chests.
The harness can be fastened at the side with our stainless steel clip for ease.
With a loose and flattering back chain for comfy all day wear.
The entire harness is made of stainless steel so is completely water, body oil and latex safe.