Scarlet In Chains – Alignment Harness
£59.00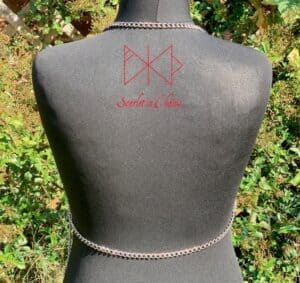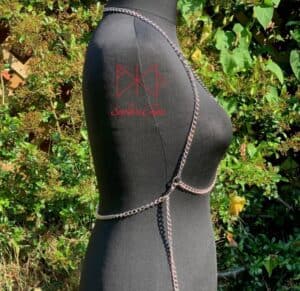 Details:
Handmade item
Materials: Stainless Steel
Jewellery style: Gothic
Description:
Created with the same Stainless Steel Chain and O rings we make our jewellery items from so it's perfect for wearing over or under clothes.
The harness can be fastened at the side for ease and an adjustable fit, you can clip through the chain at any point.
With a loose and flattering back chain for comfy all day wear.
*****Please note: do not pick your standard bra size as chain has no stretch, your band size will be larger by 3-5″ and this design will work worn loosely as the halter neck and your chest/bra will hold it in place and you can easily adjust the size at the side *******
The triangular side chain that surrounds the breast comes at a standard size of 9″ pictured on a UK 38 D bust.
This looks great worn tightly or looser to frame breasts.
The entire harness is made of stainless steel so is completely water, body oil and latex safe.