Scarlet In Chains – Choker – Mini Coven – 15-18″
£39.00
1 in stock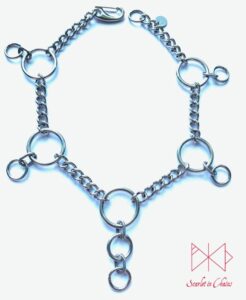 Details:
Handmade item
Materials: Stainless steel
Chain style: Curb
Style: Gothic
Description:
The coven collar gained its name from its 5 main rings represent the 5 points of the pentagram.
This collar is perfect for those who like a decorative unusual collar.
Made with 2mm welded stainless steel chain connecting five 19mm stainless steel o rings with smaller o rings suspended from the 4 around the edged and 2 from the front ring.
This item is suitable for 24/7 wear and can handle anything your life has to throw at it from sea water to latex it will not tarnish, rust, dull or stain skin or clothing.