Pjur Cult – (100 ml / 3.38 fl.oz) Silicone Based Lubricant Dressing Aid For Latex And Rubber
£19.00
25 in stock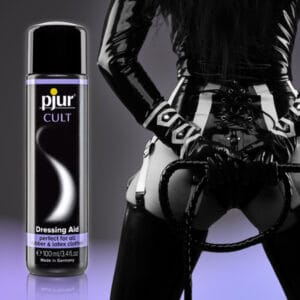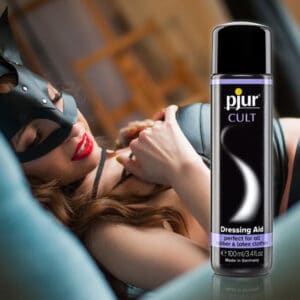 PJUR CULT Dressing Aid protects and treats the materials thanks to the special ingredients that have a beneficial effect on the molecular structure of Latex & Rubber clothing so that their owners can enjoy them longer.
DRESSING AID FOR YOUR LATEX AND RUBBER OUTFIT – Very effective product, specifically formulated to be used for Latex & Rubber clothing and accessories, even if one has a lot of body hair. The best alternative to talcum powder. Latex & Rubber become soft and smooth.
NATURAL PRODUCT – it is made without perfume, added flavours or preservatives.
SAFE TO USE – This product is silicone based and completely oil and fat free. It's dermatologically tested to be compatible with all types of skin. The product goes a long way and has been tried and tested over many years by lovers of Latex & Rubber. It is the perfect combination of practical use and stimulation for all experts and connoisseurs.
SUITED for external use.
COMPATIBLE with latex condoms.
TRAVEL SIZE – one can take this 100ml size bottle whilst travelling, there is no gas inside and it is accepted by all airlines as carry-on luggage.
INGREDIENTS: Cyclopentasiloxane, Dimethicone, Dimethiconol.
MADE IN GERMANY.