House Of Harlot – Copine Dress – L – Red
This classic fetish look has a front opening zip, with two d-rings at the top for secure fastening with a padlock, epaulettes and pocket flaps with metal buttons give it the authentic NYPD feel, and the sergeant stripes on each sleeve add authority.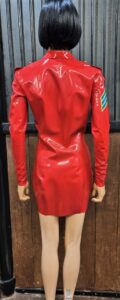 NB.  The mannequin is size small and has a smaller bust than the actual cup/bust size of the garment, the photos are made to show you the item in the colour that we have it in stock; please refer to the HOUSE OF HARLOT's photos below for a more accurate feel and fit of the garment.
MANNEQUIN PHOTOS © OF MAX DEVIANT AT FAB.LONDON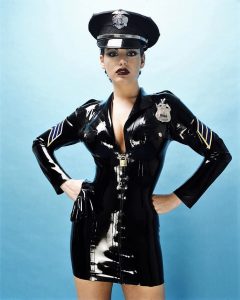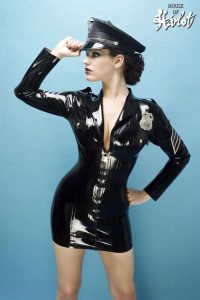 Modelled in Black here by Kelly Brook, our much copied style COPINE first appeared on the cover of SKIN TWO magazine in 1996; accessorised here with a police hat, badge and gloves which are not included with the outfit.
COPINE is shown here in classic Black Latex with the Sergeant Stripes in Blue and Gold Trim to contrast.
Model: Kelly Brook
Photographer: PEROU