Figure Of A – Bondage Rope
£20.00
This exquisite rope has the look and feel of jute or hemp, is custom made for Figure of A and is made from triple ply spun polyester yarn.
It is therefore washable, non-allergenic and very long lasting.
It is soft on the hands and does not stretch.
One bundle comes in traditional 6mm width and lengths of 4, 8 and 10 metres with either tied rope ends finished with a silver-tone bead and rope tip or a Matthew Walker knot, a decorative knot that is used to keep the end of a rope from fraying and with a silver-tone ring.
Suitable for tying of all levels and suspension.
Care instruction: Hand wash with warm water and air dry laid out flat on a towel.
The price is for one bundle.
Tip*…check the actual size variation after you have selected your choice; the product's profile photo above changes to show you every time you make a new selection.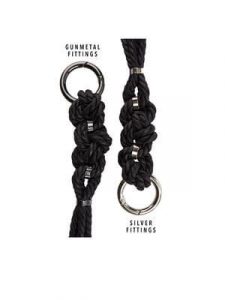 Additional information
| | |
| --- | --- |
| Size | 4m (Bead), 4m (Knot), 8m (Knot), 10m (Knot) |
| Colour | BLACK |